First North-listed Crunchfish has received prior notification by the Patent and Registration Office (PRV) that a patent for proximity-based authentication will be granted. The patent protects how mobile users authenticate their identities or demonstrate ownership of valuables in proximity-based interaction. Patent application number 1550357-6 will be the company's tenth patented invention in the area of ​​Connected AR. Patent protection is valid until 2035 in Sweden. Patent applications for this invention have also been submitted to Europe, the United States and China.
The patent protects proximity-based authentication and prevents unauthorized use of identities or valuables in proximity-based interaction. It raises the security level further by public/private key methodology for applications that implement Crunchfish Connected AR® technology, authenticating the mobile user's identity or demonstrating ownership of valuables, such as a coupon or public transport ticket.
The patent relates to all application areas for Crunchfish Connected AR®, such as m-identification, m-commerce and social applications, and is therefore a cornerstone of the company's broad patent portfolio. Crunchfish is a pioneer in Augmented Reality (AR) with 17 patented inventions of which 10 have already been approved. In addition to these patents, the company has also patented 11 unique inventions of gesture control, of which 10 are granted patents.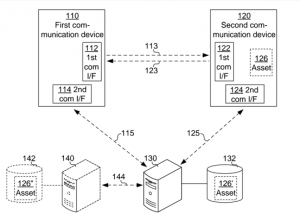 Proximity-based authentication over short-distance signalling with Beacon or Bluetooth Low Energy (BLE) in combination with broadband communication to server.
"This is an important patent since it protects increased security in all applications that implement Crunchfish Connected AR technology," says Paul Cronholm, CTO at Crunchfish and the inventor of this patent.
Crunchfish's patent portfolio
Crunchfish has, nationally and internationally, 60 active patents and patent applications in two technology areas – gesture control and Augmented Reality (AR). There are 11 unique inventions in gesture control, of which 10 have been granted patents and 17 unique inventions in Augmented Reality of which 10 have been approved patents. The company owns all its patents and patent applications without limitation.
Crunchfish's strategy is to protect the company's technology in all geographic markets deemed to be of importance. Crunchfish intends to extend its patent portfolio continuously to selected markets and through new inventions in both gesture control and Augmented Reality.
For further information, please contact:
Joachim Samuelsson, Working Chairman and Patent Liaison
+46 708 464 788
joachim.samuelsson@crunchfish.com
CEO Joakim Nydemark
+46 706 351 609
joakim.nydemark@crunchfish.com
About Crunchfish
Crunchfish develops and markets Augmented Reality technology for m-commerce and industrial and social applications. The product Touchless A3D® makes it possible to control devices with gestures and aBubbl® enables AR in any third-party application. Crunchfish's technology is licensed to both hardware manufacturers and application developers and are currently available in devices and applications from global players. Crunchfish is listed on Nasdaq First North since 2016. The company was founded in 2010 and is based in Sweden. Visit crunchfish.com for more information.