Dhruv Singh new business manager for Crunchfish's Nearby solutions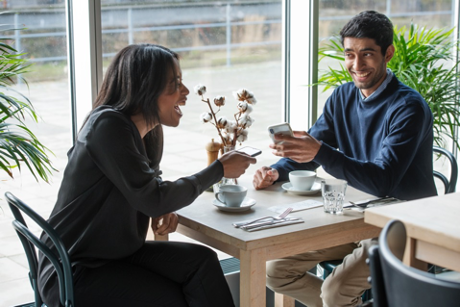 Crunchfish AB ("Crunchfish") announces that Dhruv Singh, currently working as a business developer for our team in India, has been appointed as new business manager for Crunchfish's Nearby solutions. In this business area, Crunchfish has developed its tech to show how a mobile phone can be used to discover and communicate with everything and everyone within a certain proximity, and take advantage of the fact that the mobile phone is mobile and not stationary. Crunchfish has 14 patent pending inventions in the field of which 12 have been granted. Dhruv Singh assumes his new position with immediate effect.
"Since Dhruv started working for Crunchfish, he has been working hard with business development in the Indian market, in addition to acting as one of our top models. He has shown a good ability in finding new business opportunities and therefore we have now given him the opportunity to further develop our Nearby solutions. This is an area where we have advanced solutions for how a mobile phone can be used in social contexts to discover and communicate with other people. For example, they can be linked to dating apps in order to find other singles at nightclubs, or to career sites in order to find purchasing managers at a major trade show – they are simply giving the user superpowers to understand much more about the environment than what is possible with the human senses. With Dhruv's ability to find new business opportunities in the Indian market, we see great potential in Nearby", says Joachim Samuelsson, CEO of Crunchfish.
For more information, please contact:
Joachim Samuelsson, CEO of Crunchfish
+46 708 46 47 88
joachim.samuelsson@crunchfish.com
Ulf Rogius Svensson, IR & Marketing Manager
+46 733 26 81 05
ulf.rogius.svensson@crunchfish.com
Västra Hamnen Corporate Finance AB is the Certified Adviser. Email: ca@vhcorp.se. Telephone +46 40 200 250.
About Crunchfish – crunchfish.com
Crunchfish is a tech company with patent-pending solutions for digital cash that can be integrated with both the payment rail and in mobile wallets. The solutions are globally scalable and makes digital payments more robust as the risks of disruptions and downtime are eliminated. We have also developed Blippit, an app terminal that connects to cash register systems for both online and offline payments, and have a patent-pending solution to reduce food waste. Crunchfish also develops gesture control of smart AR glasses for the consumer market. Crunchfish is listed on Nasdaq First North Growth Market since 2016, with headquarters in Malmö, Sweden and with representation in India.
---