Crunchfish has now established and opened its office in Stockholm. After extensive evaluation, we selected Epicenter at Mäster Samuelsgatan as the location for our Stockholm office, which will be headed and primarily staffed by our Business Development manager and Stockholm representative, Linda Kronby.
Crunchfish is headquartered in Malmö, Sweden, but as we have emphasized more and more on commercial growth in our Mobile payments business, we have identified a need to also have a physical presence in Stockholm. This will enable us to facilitate and host meetings with potential partners and customers in Stockholm, where many companies in the Swedish Fintech and financial sectors are located, and will also give our Malmö-based staff a convenient location to work from on business trips to the Swedish capital.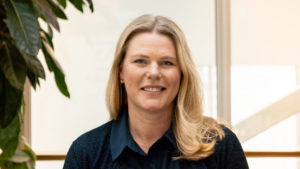 "We had several requirements when we evaluated potential locations for our office in Stockholm. A central location, easy to reach from Stockholm C, and preferably with an existing strong presence of other innovative companies which we can network with, was definitely top priorities. Epicenter met all our criteria, and I'm excited to head Crunchfish's Stockholm branch from here", says Linda Kronby.
If you want to know more about our office in Stockholm, or perhaps pay us a visit, don't hesitate to contact Linda at linda.kronby@crunchfish.com or +46 70-266 42 05!
About Epicenter
Epicenter is a House of Digital Innovation and is located in the heart of the city of Stockholm, Oslo, Helsinki and in Amsterdam. At Epicenter, members are invited to innovate alongside the world's fastest growing digital companies and creative corporate initiatives. Within Epicenter, local and international entrepreneurs and companies meet to collaborate, learn and grow their businesses.
Epicenter in Stockholm is located at Mäster Samuelsgatan 36. Learn more about Epicenter here: https://weareepicenter.com/stockholm/