Crunchfish and Digitsecure join forces to enable Digital Cash on EMV certified SoftPOS payment platform
Crunchfish AB ("Crunchfish") adds Digital Cash Partner #4 by entering into a Marketing & Technical Partnership Agreement with Digitsecure Singapore Pte Ltd ("Digitsecure") regarding integration of Crunchfish's Digital Cash solutions into Digitsecure's EMV and PCI certified SoftPOS payment platform.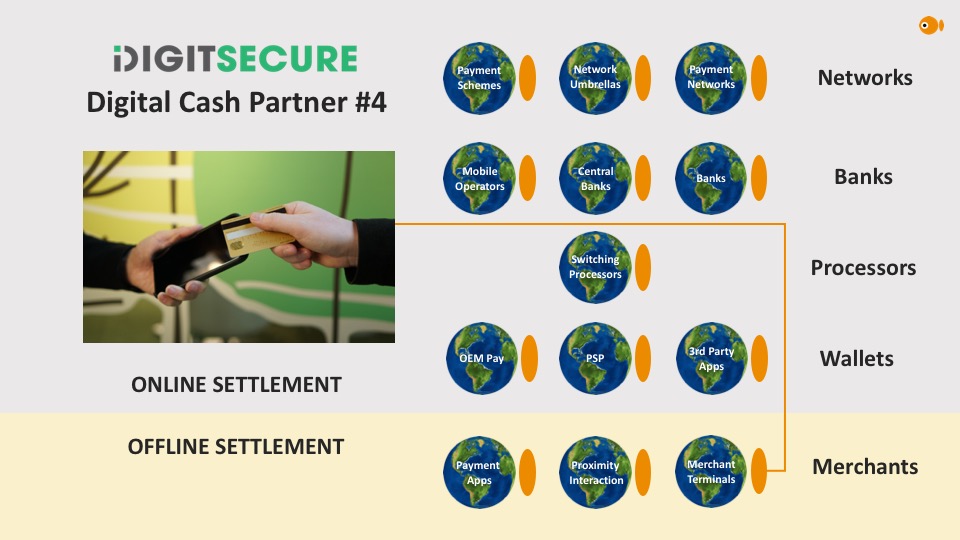 DigitSecure's SoftPOS payment acceptance platform and their PCI certified Dunn App is a software only mobile POS solution in compliance with global payment schemes. The solution uses NFC (near field communication) to turn Android devices into a POS terminal that can accept EMV contactless payments by just tapping the card to the device. DigitSecure is the first company based in Asia Pacific to receive PCI security certification for deploying this technology. By integrating Crunchfish's Digital Cash solutions merchants can instantly settle offline for improved cash flow, better cash management and lower risk.

"DigitSecure will be a strategically important Digital Cash Partner for Crunchfish with their PCI certified SoftPOS platform for Visa, Mastercard and American Express contactless card payments. By linking our innovative technologies together, we will accelerate our market rollouts", says Joachim Samuelsson, Crunchfish CEO.

"Crunchfish's Digital Cash solutions will strengthen our payment platform by enabling instant settlement for our merchants. There is a strong demand for offline payment in India as the Reserve Bank of India has requested the market to pilot offline payments. We are also looking forward to Crunchfish marketing our combined solution in European markets", says Jay Krishna, Digitsecure CEO.

About DigitSecure – www.digitsecure.com
DigitSecure is the first fintech payments technology provider in Asia-Pacific with PCI certified SoftPoS Payments Acceptance Cloud Platform for accepting touchless payments. It gives acquirers and merchants the ability to seamlessly accept payments on NFC devices and lower capital and operational expenditures.  DigitSecure goal is to displaces PoS terminals with a mobile application for accepting omnichannel payments safely and securely. The PCI Certifed device- and OS-agnostic solution, offered as SoftPoS Platform as a Service, makes touchless payments acceptance simple and affordable for millions of SMEs in India and across the globe.

For more information, please contact:
Joachim Samuelsson, CEO Crunchfish AB
+46 708 46 47 88
joachim.samuelsson@crunchfish.com

Ulf Rogius Svensson, IR & Marketing Manager, Crunchfish AB
+46 733 26 81 05
ulf.rogius.svensson@crunchfish.com

Västra Hamnen Corporate Finance AB is the Certified Adviser. Email: ca@vhcorp.se. Telephone +46 40 200 250.

This information is information that Crunchfish AB is obliged to publish in accordance to the EU Market Abuse Regulation. The information was provided by the contact person above for publication on January 29, 2021.

About Crunchfish – crunchfish.com Crunchfish is a tech company with patent-pending solutions for digital cash that can be integrated with both the payment rail and in mobile wallets. The solutions are globally scalable and makes digital payments more robust as the risks of disruptions and downtime are eliminated. We have also developed Blippit, an app terminal that connects to cash register systems for both online and offline payments and have a patent-pending solution to reduce food waste. Crunchfish also develops gesture control of smart AR glasses for the consumer market. Crunchfish is listed on Nasdaq First North Growth Market since 2016, with headquarters in Malmö, Sweden and with representation in India.
---