Usability is key for AR to succeed – visit Crunchfish at AWE USA and experience true user focused interaction
The AR-interaction and UX-specialist Crunchfish demonstrates the importance of efficient interaction in AR glasses at AWE USA in Santa Clara, May 29th-31st – setting a new standard for AR user experience.
Focus on user experience in AR is key to success
So far, AR projects have focused on technology to provide the AR experience rather than methods that allow users to better engage with the content. It is crucial to include the user experience to secure confidence in AR and avoid project failure. Crunchfish has in its new interaction solution used UX-experience from projects during the last 8 years resulting in a cutting edge and user-friendly interaction solution for AR.
Crunchfish demonstrates the importance of usability and how to change the AR-experience
At AWE USA in Santa Clara Crunchfish will demonstrate several solutions increasing the usability and security when using AR glasses.
Gesture interaction – One gesture concept
Touchless gesture interaction lets you engage with AR devices and environments in a direct way, making interactions more fluid and immersive.
In Crunchfish's One gesture concept, a pointer tracks the hand and a pinch-gesture is used to activate the different functions in the AR glasses. Examples of functions to control are zoom, drag & drop objects, and draw in the AR-view.
iOS support and gestures for Unity developers
Naturally Crunchfish's latest touchless interaction software supports iOS as well as Android, and we have now also added a more advanced Unity API to the benefit for our developers.
XR-tracking 2.0 – Our most powerful product to date
With a full 3D experience XR-tracking 2.0 enables a powerful interaction using a standard 2D RGB camera. On top of that there are a lot of updates in underlying algorithms, which will be obvious when it is tried out. We have visualised all the bells and whistles in a mobileAR demo that can be experienced in the Crunchfish booth 843.
Increased information security in AR with gesture-controlled pin code
The new Crunchfish solution tackles the information security issues when using AR glasses by offering a smooth pinch-click solution for entering the pin code when using AR glasses.
Welcome to visit Crunchfish in booth 843 to discuss the possibilities of touchless gesture interaction and contextual awareness.
For more information, please contact:
Henrik Winberg, Sales Director at Crunchfish
+46 702 12 61 29,
henrik.winberg@crunchfish.com
Joakim Nydemark, CEO
+46 706 35 16 09,
joakim.nydemark@crunchfish.com
Watch the new AR-interaction demonstration films from Crunchfish
Crunchfish 3D gesture interaction using 2D RGB camera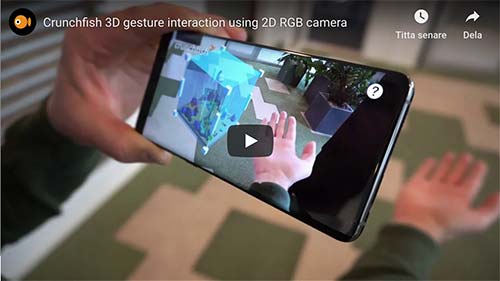 Gesture control and contextual awareness for AR glasses

About Crunchfish
Crunchfish develops software for AR that creates new possibilities for interaction. We use cameras to detect and track a person's face and hands, which enables you to engage in a more natural way with digital interfaces using gestures. Through Low Energy Bluetooth, we provide applications with an intelligent proximity layer, that lets users locally and seamlessly discover who and what is nearby, connect and share information.
Crunchfish's technologies are licensed to hardware manufacturers and application developers and are currently available in millions of devices from global enterprises. The company was founded in 2010 and is based in Malmö, Sweden. Crunchfish is listed on Nasdaq First North since 2016. Visit crunchfish.com for more information.